Ellis Chappell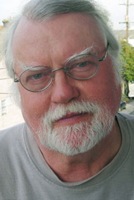 Ellis Chappell was born in Memphis and grew up in Fort Smith, Arkansas. After his service in the army, he attended Memphis Academy of Arts, graduating in 1970. He completed his Masters course work at Syracuse University.
Ellis began his professional art career working out of his attic painting portraits; illustrating album covers for Stax records and providing art for Memphis area advertising agencies. Since that time his work has appeared in The New York Times, Readers Digest, Field & Stream, National Geographic, The Downtowner Magazine, Memphis Magazine, Dallas Magazine, and many other publications. He has also designed and illustrated four of the annual Grammy Awards posters, including the 25th Anniversary edition. He has continued painting portraits of the famous and not so famous, Tom Cruise, Gregory Peck, The Neville Brothers, Woody Harrelson as Larry Flynt in the movie, Corky (the dog), many children and sometimes their parents, and is currently collaborating with his studio partner and son on a custom portrait commission for Steven Seagal.
Ellis' work appears on the book covers of many authors including John Grisham, Kurt Vonnegut, Michael Crichton, Earl Stanley Gardner, and Elmore Leonard.
Ellis discovered New Orleans as a teenager while working for an antique dealer in Fort Smith. He made a vow at that time to some day live in The Big Easy. It took a few years but he finally made it about ten years ago. "How could you not love a city that has such a rich cultural history and will give a parade celebrating everything from the sun coming up in the east, (as opposed to some other direction), to numerous shell fish or vegetables (Oysterfest, Shrimpfest, Tomatofest, etc.)".
Click Here to see Ellis' C.V.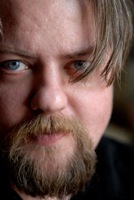 Reed Chappell
Under his parent's encouragement and occasional guidance from his father Ellis, Reed started drawing at the age of three. Reed started his pursuit, beginning in crayon with stick figure family portraits he drew on the walls of his immensely patient parents' house. Beginning with superheroes and then moving on to painting in acrylics in the second grade, Reed kept this up any second of the day that he had time.
As he began to take his studies more seriously, branching into other mediums, he had the fortune of studying under Bill Hicks, an influential art teacher based out of Central High School in Memphis. Early on Reed was awarded a regional Hallmark Award through Brooks Museum of Art and went on to win a nationwide scholarship competition for the School of Visual Arts in Manhattan. While attending SVA, he studied traditional oil painting, figure drawing, and watercolor under teachers such as Irwin Greenberg, Jim McMullan, and Marshall Arisman.
In the 15 or so years since college, Reed has focused on continuing to refine his oil painting technique and knowledgeability about all aspects of the visual arts. In addition to commissions and commercial art, he has taught art classes as well as pursuing many projects on his own to expand his repertoire as a painter and deepen his understanding of subtlety and perfection with traditional oil painting. Since college, and over the course of his career, he has spent a great deal of time breaking apart and studying the painting methods of various influential artists such as renowned portrait painter John Singer Sargent, as well as other classic painters and draftsmen such as Edgar Degas, Claude Monet, and Leonardo da Vinci. In addition to these classic painters, Reed has worked on mimicking and replicating the painting styles of early to mid-twentieth century American commercial and pinup artists. Many of these painters, such as Gil Elvgren, Haddon Sundblom, and J.C. Leyendecker were classically trained oil painters and themselves built very refined, identifiable painting styles rooted in traditional academic oil painting techniques.
In addition to portraits, Reed has produced a great deal of vintage art as well as continuing to pursue his love for comics.
Click Here to see Reed's C.V.